Overview
This article provides Upgrade paths and steps for upgrading the current version to the latest release available
Diagnosis
Whether there is a need to upgrade the current version or migrate to a new server and upgrade the version the steps below walk through the installation of the latest release of GFI Archiver. Running the latest release of the product ensures that end users will continue to receive the latest fixes for any bugs found in the product, updates to support newer environments and continued support.
Solution
To check what version you are running navigate to the Home page of the Archiver console and by default it is located in the top center as shown in the screenshot below.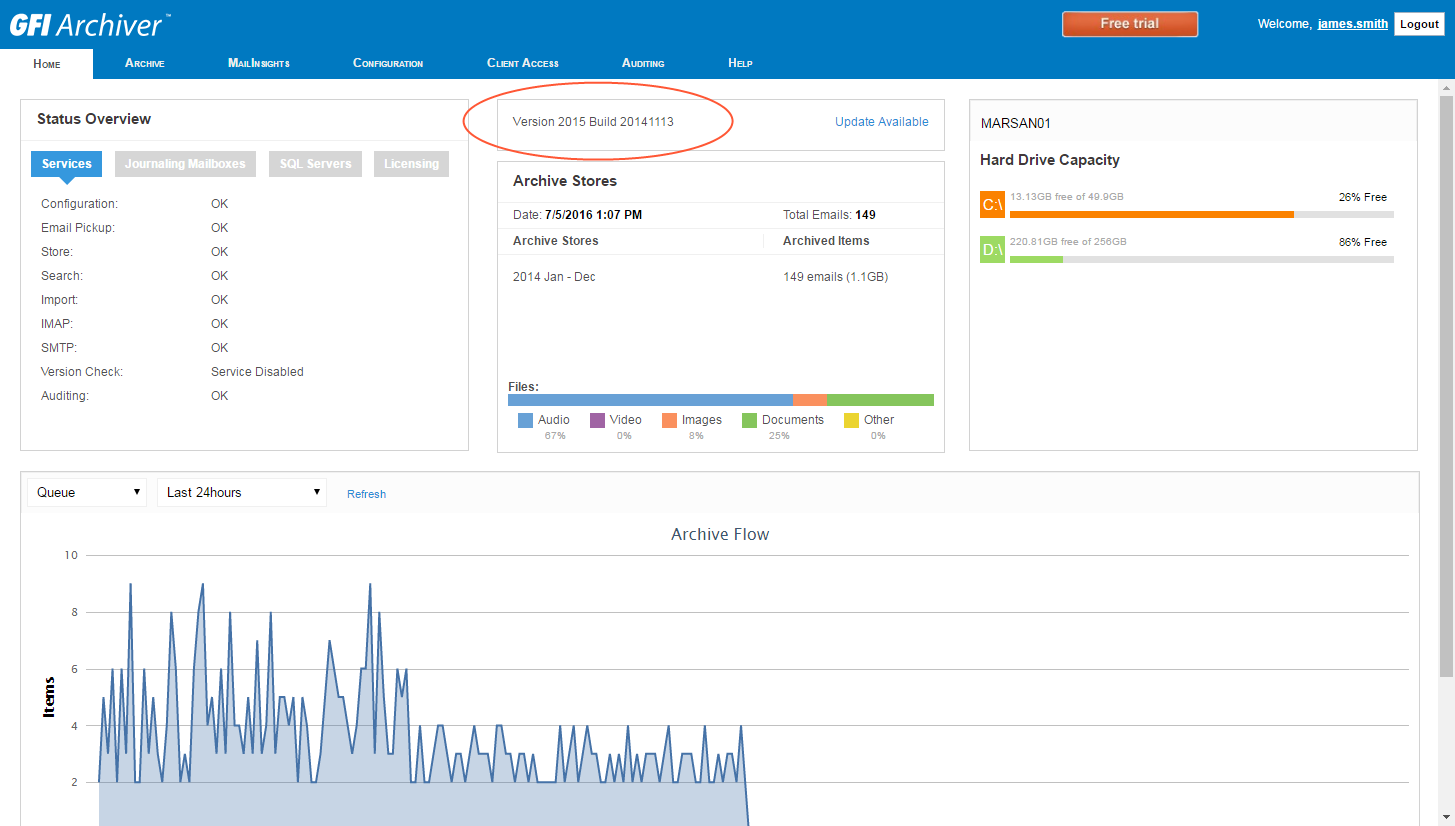 For easier access, we have listed all the direct links below to all version upgrade paths, which contain the download links and instructions on how to upgrade GFI Archiver to the latest version from previous versions.
Please read the instructions to upgrade your current GFI Archiver installation to the latest version and retain all of your previously configured settings:
Note: You may also find all version upgrade paths in the GFI Upgrade Center.
If performing a server migration as well refer to Moving GFI Archiver to a new server.
Testing
As shown in the above Diagnosis section, after the upgrade has completed, check the same location on the Home page of the Archiver console to confirm you are running the latest release. You can confirm the current latest release by reviewing GFI Archiver Product Editions and Release Notes.
Related Articles
Below are a few issues that can occur during the upgrade which can prevent functionality after attempting to upgrade.
Error "The credentials supplied are incorrect When Upgrading SQL Database Schema"
'Error 1603' When Upgrading MailArchiver
Error: "Error applying transforms." When Upgrading or Uninstalling GFI Archiver