Overview
This article gives you a list of SMTP (Simple Mail Transfer Protocol) status codes and SMTP reply codes that can help you troubleshoot email issues within Kerio Connect.
Reference Information
These codes are present in Maillog and Debug log. Right-click in the Debug log window and select Messages > SMTP Client.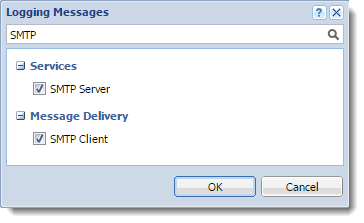 Below is a list of the most common codes that appear in the logs.
SMTP status codes
2.0.0 – Email has been delivered to the Inbox.
2.1.5 – Email has been delivered and moved to another folder due to a filtering rule.
4.1.1 – Email address does not exist.
4.4.1 – No answer from host or connection lost.
5.1.7 – Senders email address was incorrect or have bad syntax.
SMTP Reply Codes
220 – Server ready.
250 – Request mail action ok.
450 – Requested mail action not taken, mailbox unavailable.
451 – Request action aborted.
500 – Syntax error, command not recognized.
550 – Requested mailaction not taken, mailbox unavailable.
554 – Transaction failed.